Mangia's announces the opening of its brand new 5-star Mangia's Santa Teresa Resort, owned by the Insulae joint venture between the leading Italian hospitality brand and Hotel Investment Partners (HIP), a leading owner of resort hotels in Southern Europe owned by funds managed by Blackstone. The resort reopened for guests on the 26th of June following an investment of 12 million euro and a complete transformation of the premises.
Mangia's Santa Teresa Resort is located by the sea, in the small bay of Santa Reparata in Northern Sardinia. The resort is nestled in the unique Valle della Luna landscape, where sandy shores alternate with small rocky coves. There is direct beach access for guests to enjoy the crystal clear sea.
Mangia's Santa Teresa Resort is part of the group's adult-oriented collection. With its effortlessly elegant atmosphere, it offers guests the opportunity to relax in style during their 5-star authentic Italian vacanza. The 199 fully refurbished rooms are spread over two floors, set around pretty flower-filled patios, and linked by stairways, arches and covered walkways. Modern, bright and comfortable, they are tastefully furnished in a contemporary "Made in Italy" style that reflects the surrounding Sardinian territory.
The rooms are equipped with all the comforts that guarantee a relaxing and enjoyable stay including high speed Wi-Fi, smart TV, air conditioning, a minifridge, and a safe. Many of the rooms also have a sea view or private terrace to ensure that visitors can make the most of their time at this stunning seaside resort. Guests who wish to have the most exclusive experience during their stay can upgrade to Mangia's UNICO Preferred Programme to benefit from tailor-made services and dedicated private areas.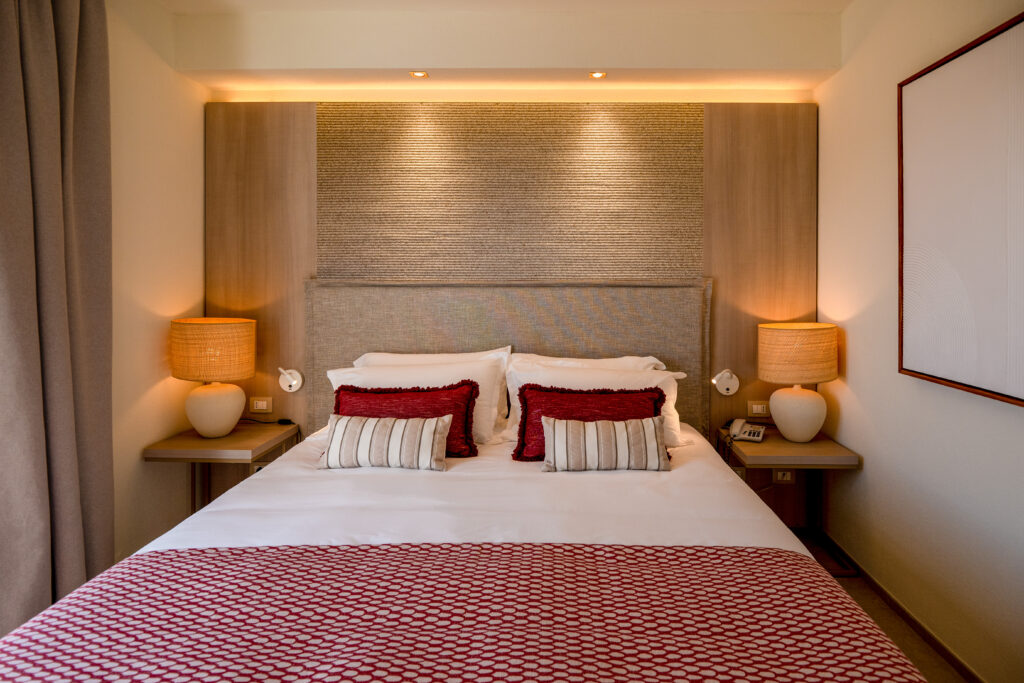 As a result of this investment and renovation, the resort has a range of new facilities including a swimming pool, wellness centre, gym, tennis court, watersports (stand up paddle and canoeing), beautifully landscaped gardens, and free on-site parking. There is also access to the beach where, from summer 2024, there will be an exclusive Beach Club. The resort offers taste experiences at its two restaurants – the newly opened Donna Floriana Bistrot, presenting traditional and contemporary Italian dishes interpreted by expert chefs, and the refurbished Perseo Restaurant, featuring an international buffet that includes local specialties. Guests can also enjoy a drink at sunset at the updated Lime Pool Bar.
The renovation of the state-of-the-art resort has a sustainable focus, in line with Mangia's and HIP's commitment to sustainability and protecting the environment around the brand's properties. In addition to structural refurbishments and the installation of energy-efficient equipment, additional energy-efficiency measures will be implemented throughout the rest of the year. These initiatives include the introduction of solar panels in the coming months and are part of Mangia's ongoing ESG project.
For information and bookings, please consult our website, send an email to booking@mangias.com, or call the central reservations office on +39 091 7434 100.